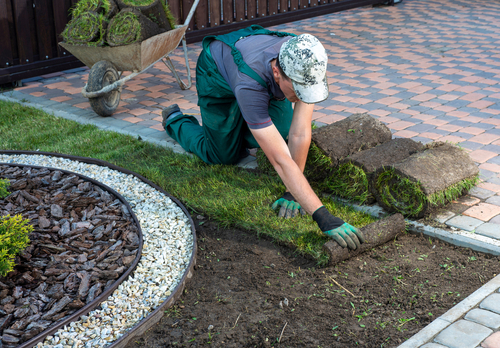 For anyone that lives in Kansasville, Union Grove, Racine County, and Rosewood, WI, having a nice lawn is a great investment. When you have a nice lawn, it can greatly improve your curb appeal and make your outdoor space a more enjoyable place to spend time. Whether you are an individual property owner, manage a commercial property, or are looking to make an improvement to a public space, investing in new sod is a great idea. When you are in need of sodding services Kansasville residents and owners should trust our sod farm as the company offers a variety of top services.
High-Quality Sod From Our Sod Installers
One of the reasons to call Royal Green Sod Farm for all of your Kansasville, WI sodding services is that you can receive high-quality Sod. At Royal Green Sod Farm, our premium Kentucky Bluegrass Sod has a lush, dark green color, with a medium-widened leaf blade, and performs best in full to part sun, with fertilized soil and moderate watering. It has a medium to high traffic tolerance and self-repairs damaged areas with rhizomes. Kentucky Bluegrass is the most widely used, cool-season turf grass, and is well suited to lawns, athletic fields, golf courses, and other general-purpose areas. This can ensure the sod continues to look great, even when the weather is hot.
We also offer tall fescue grass sod. Tall fescue grass is a common choice for sod production, residential lawns, and sports turf. It easily adapts to a broad range of environmental conditions and sod types. Tall fescue performs in sun and shade, handles moderate drought, and resists insects and diseases. Our team can help you determine which type of sod and seeding service is right for your situation.
Installation Services
While our team with Royal Green Sod Farm can offer you high-quality sod, we also offer top installation services. When it comes to sod installation Kansasville, WI residents and property owners will want to work with someone that has a great reputation. Our team with Royal Green Sod Farm is experienced in the local area and is familiar with the challenges that the local environment and hot summers can have on sod. We offer full installation services and recurring maintenance that will ensure your land is prepared for sod, installed properly, and maintained the right way.
Our team with Royal Green Sod has been serving the Kansasville area since 1988. We continue to have a top reputation in the area and can help with your sod selection and installation needs. Contact us today by dialing 262-492-0780 to learn more about how we can help.